Implementing Play Streets in Rural Communities

By: Keshia M. Pollack Porter, PhD, MPH, Johns Hopkins University and M. Renée Umstattd Meyer, PhD, MCHES, Baylor University
Originally posted to the Baylor University website.
Play Streets — place-based interventions that involve temporarily closing streets to create safe places and free opportunities for physical activity –are a great way to engage youth and families, get people active, and promote community connections. The Guide to Implementing Play Streets in Rural Communities provides guidance and recommendations to community groups, schools, faith-based institutions, or other organizations, on how to plan and put on a Play Street in rural communities based on first-hand experience from community partners in rural Maryland, North Carolina, Oklahoma, and Texas.
What you will find in the Guide
The Guide is a terrific resource on how to adapt Play Streets from urban settings, where they are typically implemented, to rural settings, and informs each step of the implementation process: what happens before, during, and after a Play Street. The guide also includes examples and feedback from organizations that hosted Play Streets in rural communities, including challenges they faced and overcame, as well as resources like advertisement templates.
In addition to the Guide, you can also find the entire Post Play Streets Form and Template to help with evaluation. Please feel free to download/use this form for your own Play Streets.
For more information, please contact Dr. M. Renée Umstattd Meyer at 254-710-4029 or [email protected].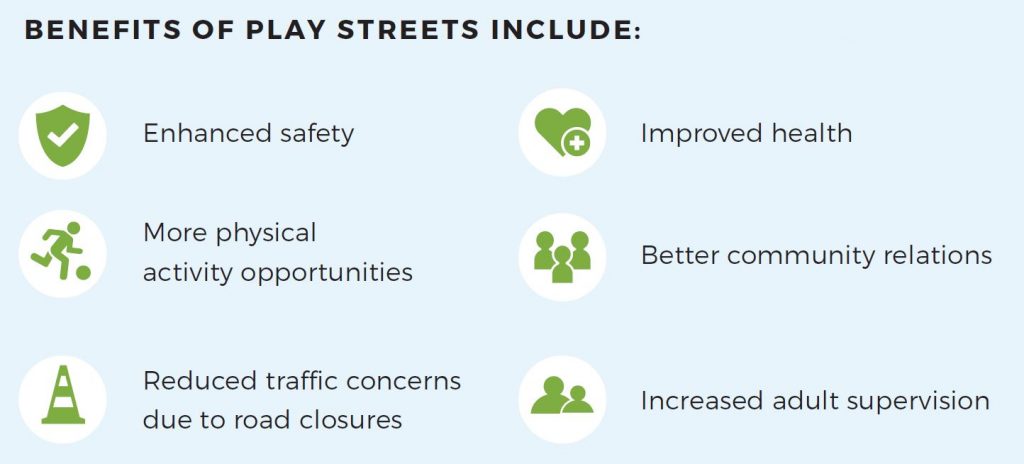 If you are interested in learning more about the research related with this project please reference the following scientific articles:
Bridges C. N., Prochnow T. M., Wilkins E. C., Pollack Porter K. M., & Umstattd Meyer M. R. (2019). Examining the implementation of Play Streets: A systematic review of the grey literature. Journal of Public Health Management & Practice. https://doi.org/10.1097/PHH.0000000000001015.
Umstattd Meyer M. R., Bridges C. N., Schmid T. L., Hecht A. A., & Pollack Porter K. M. (2019). Documenting how Play Streets impact opportunities for play, physical activity, and environments: A systematic review. BMC Public Health, 19:335. https://doi.org/10.1186/s12889-019-6609-4.
This guide was made possible with funding from the Physical Activity Research Center. The research that generated the guide was led by Drs. Keshia Pollack Porter from Johns Hopkins Bloomberg School of Public Health and M. Renée Umstattd Meyer from Baylor University. Contributing authors to the guide included Christina Bridges Hamilton, Tyler Prochnow, Tom Schmid, Emily Wilkins, and ChangeLab Solutions.
Suggested Citation:
Pollack Porter KM, Umstattd Meyer MR, et al. Guide to Implementing Play Streets in Rural Communities. San Diego, CA: Physical Activity Research Center, Johns Hopkins University and Baylor University; 2019. Available at: https://www.baylor.edu/publichealth/RuralPlayStreetsGuide.
Connect with the Play Streets team on Facebook
Share how your community is using the Guide on Facebook at fb.me/PlayStreets4All.